We've been working with Kim Arnold on a launch video for her new book, Email Attraction: get what you want every time you hit send.

Kim is a communication and marketing consultant, who has spent over two decades showing businesses how to stand out from the crowd and connect with their clients. We partnered with Kim on a campaign video to help get the news out about her book.

Due to the changing Covid-19 restrictions we had to move filming a few times. When we realised it would be impossible to film Kim in person at her home, we pitched Kim the idea of doing the filming remotely at her home with our direction, equipment and support.

We sat down with Kim and Dan (over video!) to chat about the filming process, the highs and lows as well as Email Attraction.


Hello Kim! Can you tell us a bit about your background?
Kim: I'm an international communication and marketing consultant, helping businesses and individuals stand out, get their message heard and connect with their clients more effectively. I show organisations and entrepreneurs - from coaches to global banks and law firms - how to talk and write in a way that gets results.
I'm also an experienced speaker — covering everything from brand to writing, communication and marketing strategy, offering down-to-earth, expert advice.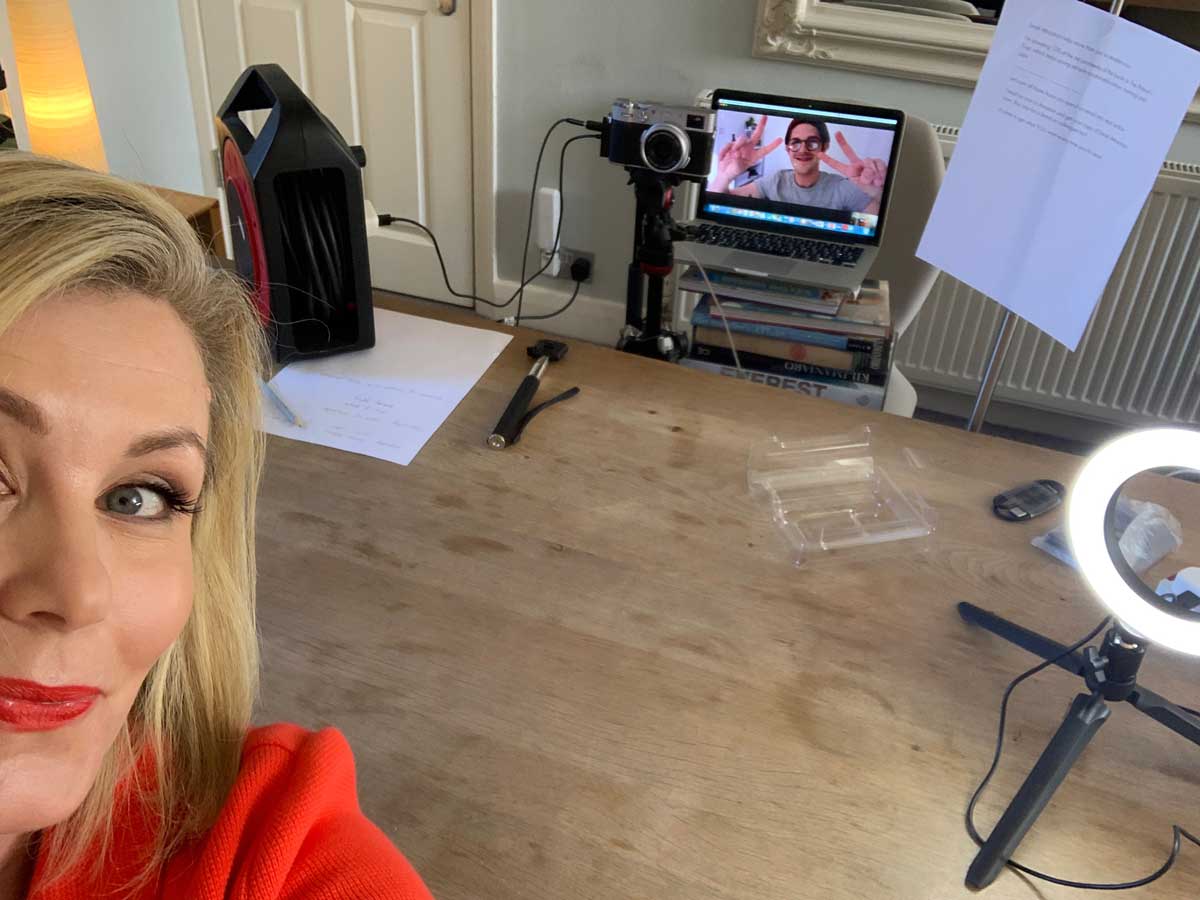 We'd love to hear more about your new book.
Kim: Email Attraction is a powerful little book that helps its readers get what they need — every time they hit send!
We all rely on email to a huge extent. Many of us will spend hours of our week reading, drafting and sending emails — it's one of the main ways we communicate in business. But we're never actually taught how to write an effective email. The kind that will get your reader's attention in seconds. One that will persuade, influence and get you the results you really want.
As a business communications consultant, I've helped thousands of people write more powerful emails. Email Attraction is a way to share my knowledge and secrets more widely.  It's a fun, snappy read and has already had some amazing recognition from publications, including the Financial Times.
I'll also be donating 10% of every book sold to the Prince's Trust, which helps young people access training, education and jobs.
Hi Dan! How did you initially approach the project?
Dan: When we originally pitched the promotional launch video to Kim, the plan was to spend a full day in London filming on-site. With COVID-19 underway, we wanted to take a positive and humorous approach, while getting the message across about the book. We had decided to film in December — and then everything went into a tiered system, with London and the South Coast in Tier Four.
We postponed the filming until January, while building out the storyboard and planning these fun animations we'd be doing in the meantime. Then of course in January we went into a national lockdown.
What happened next?
Dan: We were really anxious about missing out on the opportunity to do the book justice with a proper promotional advert — so much work has gone into it, and I can attest that it's a fantastic read. I suggested that we challenge ourselves to get the filming done remotely — Kim loved the idea and that gave me more confidence.
We decided to hire the equipment as we've done in the past, but instead of shooting it ourselves, we got it sent to Kim's house. The idea was to spend time coaching her remotely on how to use the equipment, set up the lights and essentially do everything we could to take the pressure off her and make it an enjoyable experience. Instead of filming over one day we set up a calendar to do it over two weeks, which accommodates time for testing equipment, doing test footage, allowing the time for it to be able to be sent back to us to vet it all. And also to make sure that Kim was comfortable actually using the camera.
We had to completely risk-assess everything in a different way than we would in person. For example, ensuring Kim had to have enough equipment around her to make sure the quality of content was done to justice. Kudos to Kim for taking on that challenge.
The circumstances have definitely become part of the story. This book has been borne out of being helping people communicate online, especially during lockdown, and has also been promoted in the sphere of lockdown. It's added to the experience and the final outcome of the video; it's much more authentic as a piece of content because we've actually done these things lockdown so the story has been told in a much more compelling way.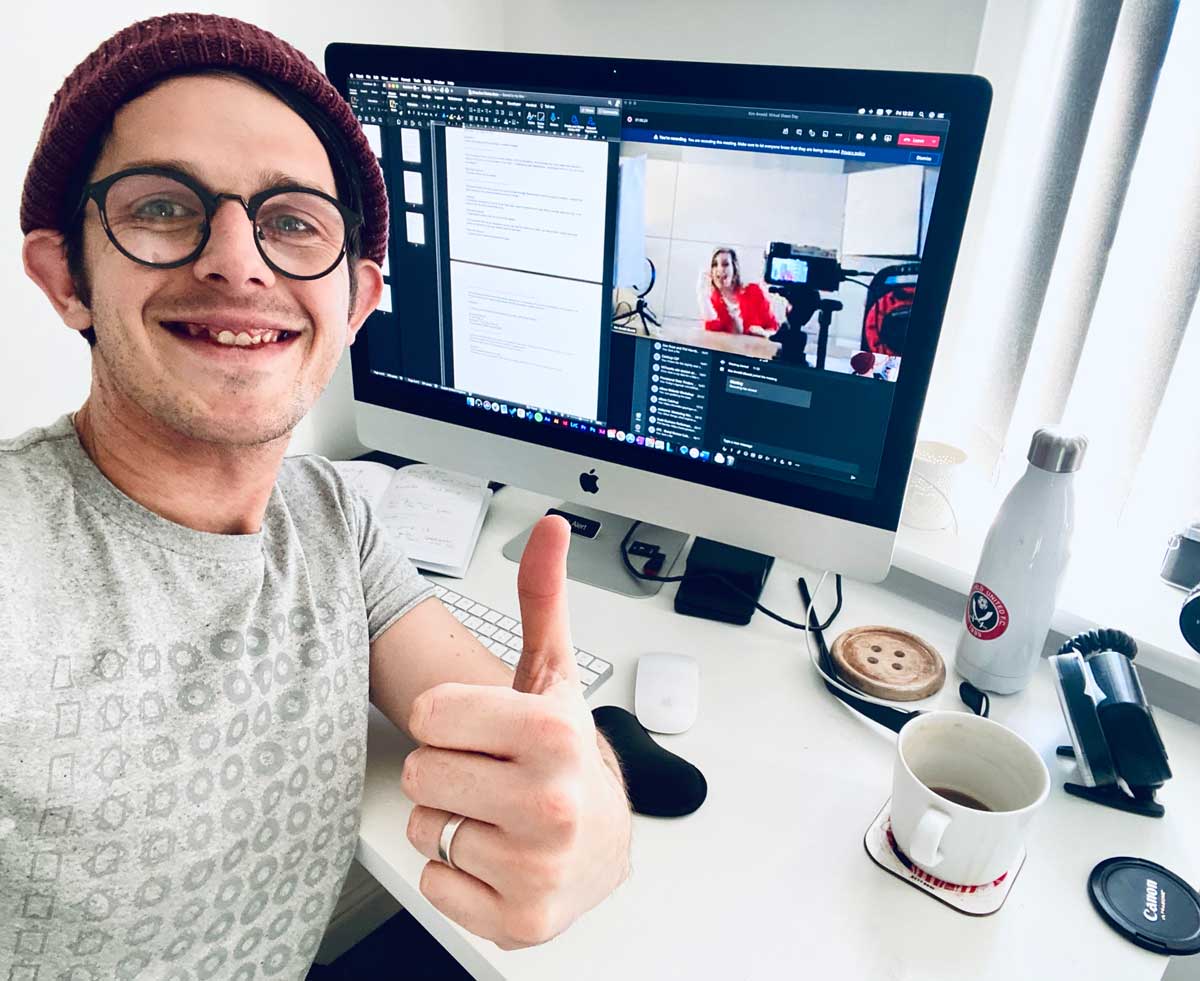 Any highs and lows for you Dan?
There were a few challenges that came about during the project as a result of filming all of this remotely. It was the first time we'd ever done it, so it was a learning experience too.
I had done about two weeks of virtual vetting of equipment, and we'd got a camera in which I'd not used before — although I thought it was the right piece of kit for the job, and went through numerous videos from official sites to respected photographers. With my videography experience I felt pretty confident that I could train Kim on it. The camera looked great. Kim was super excited to crack on.
But the camera arrived with some customised overrides which baffled us — especially me — for a couple of days. Because all the footage Kim was sending back to me was completely black. Credit to Kim, she didn't panic. It turns out, all the dials on the camera had been disabled. I figured that out on the second day we were having a session. The safest thing to do was start again from scratch, had the full camera set up. As soon as we put the first settings in, Kim's face lit up because she could see everything on scree. I thought, thank god for that.
Another hurdle happened after we'd completed the filming. We'd arranged a courier to pick up a harddrive and camera equipment back. I got the consignment back the following day, and someone had raided all the equipment — an SD card, external harddrive and loads of stuff — on the way back. Luckily, nothing had been stolen, damaged or anything, but someone had gone through it. I had a big panic until I realised all the content was on that hard drive and memory card.
There were a few other challenges along the way, including some hardware issues with my iMac. But we got there in the end, it was a brilliant process — and the video came out mint!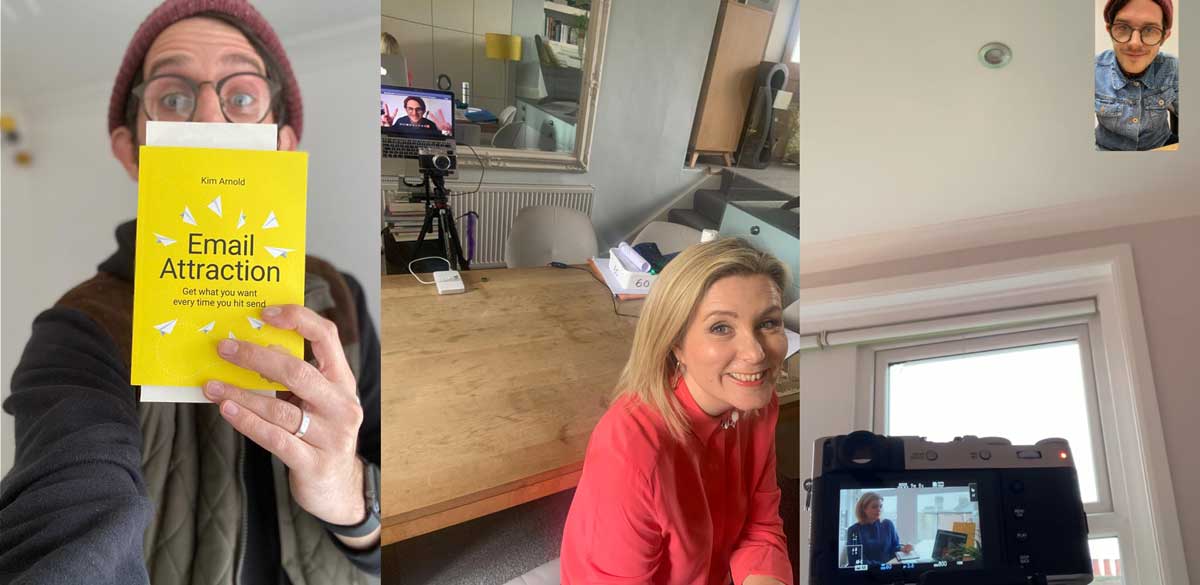 And Kim, how did you find the process of filming under lockdown?
Kim: Dan was really amazing throughout the entire process. He researched and rented the right video equipment and had it sent to my home.
We had a session where he (very patiently!) showed me exactly how to use the tech including setting up the cameras and lighting, doing a great job of not laughing as I struggled with the simple job of putting up the tripod! . We selected areas of my house that would make for the best, most varied,settings (my lounge, office, kitchen and even kids' bedrooms!)  and adjusted the backgrounds to make sure they worked for the video.
He directed the shots over Zoom as he would have done in real life, giving me invaluable advice on how to set up each shot and deliver my lines. He had a clear vision in his head about what the video would look like so I took his lead, even with some of the more bizarre suggestions like looking into the middle distance and 'pinging' emails with my hand! It all became clear in the final cut which came together brilliantly.
Despite the challenge of being remote, it worked even better than I'd hoped. They say that the most creative solutions can come from the trickiest of circumstances and that's certainly what happened here. I've had fantastic feedback and feel like the video does my little book real justice. A huge thank you to Dan and his team!